These days, you can get skirting boards in a variety of materials. In this post, we're going to be talking about Oak and MDF.
What Is Oak?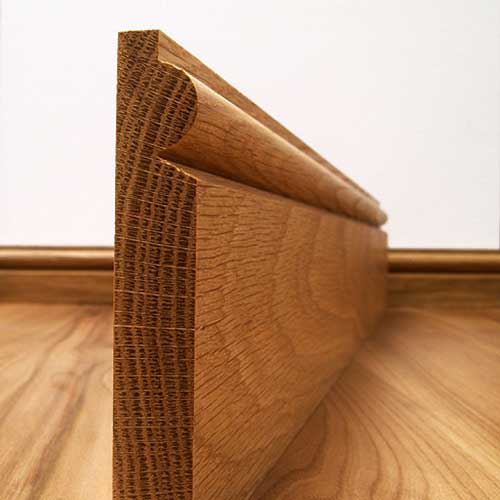 Oak is a natural timber and is classed as a hardwood. It is a premium material and often very expensive.
When it's used for skirting boards, it is normally stained which enables you to see the grain.
What Is MDF?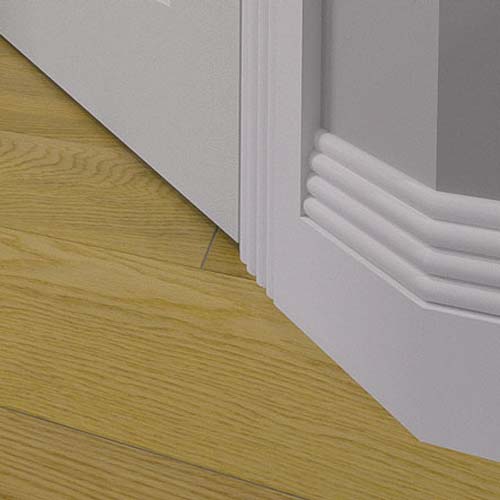 MDF is a man-made material. It is made of wood fibres that are compressed into a solid piece of wood.
When skirting boards are made out of MDF, they are normally primed and painted to give a clean, smooth finish.
Oak Skirting Boards
So, first we'll talk about skirting boards manufactured using Oak.
Advantages
When using Oak skirting boards, you can achieve the look of natural wood in your home. It will also look and feel premium compared to other materials.
Because Oak is a premium material, the finish will be impeccable.
Disadvantages
Because it's a natural wood, Oak has it's downsides.
It can't withstand moisture very well so it won't be any good for areas that are prone to damp or contact with moisture.
Oak is a very expensive material in comparison to other available materials.
MDF Skirting Boards
Now we'll move on to a very popular material, MDF.
Advantages
When using MDF skirting boards, you'll no doubt get a smooth and clean finish every time.
Most of the MDF available on the market is moisture resistant so you don't have to worry as much about a little water getting on the skirting.
MDF doesn't have a grain so if you're painting the skirting, you'll get a clean and even finish throughout.
MDF is one of the cheapest options available when it comes to skirting boards, but that doesn't mean it's the lowest quality material on offer.
It will also outlast most other materials on the market (some places offer lifetime guarantees!).
Disadvantages
If you end up buying a cheap form of MDF, it most likely won't be moisture resistant so will be no good in environments prone to moisture.
With cheap MDF, the quality is also considerably lower and furriness can be present on the moulded sections (this leads to poor final finishes).
Summary
So we've done a quick run through of the advantages and disadvantages of both MDF and Oak. Hopefully you're able make a decision on which material you'd go for.
If you're after our opinion, we think MDF is the most viable choice for the average consumer.
But remember, if you're looking for a real wood finish, the best choice would be Oak.